Military and College Grad Discount Programs at Benson Nissan
At Benson Nissan, we have an unwavering commitment and passion about providing you with the best vehicles at unbeatable prices. This is one of the reasons we regularly welcome customers from throughout Greenville, Greer, and Spartanburg, South Carolina.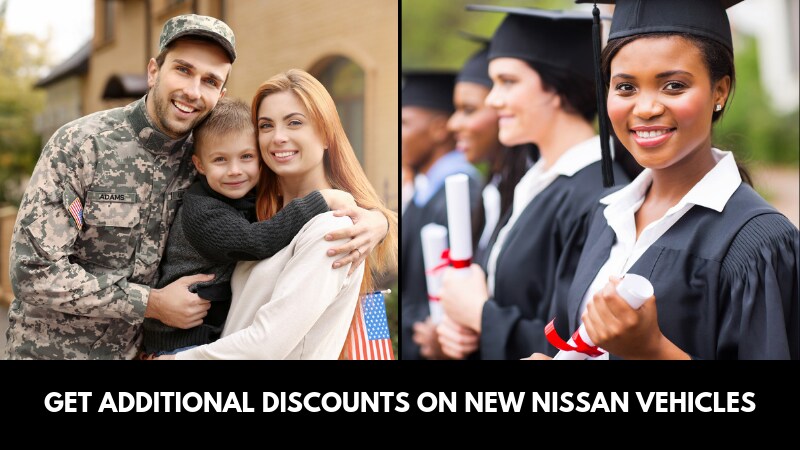 Regardless of where you're from, Benson Nissan offers additional discounts through our Nissan Vehicle Purchase Programs, such as the College Graduate Program and the Nissan Military Discount. The Military Discount is just one way we give back to deserving servicemen and servicewomen who have served for our country. And what better way to congratulate recent college graduates than with a discount on a new vehicle?
Benson Nissan offers these money-saving offers through our Nissan Vehicle Purchase Program (NVPP). Continue reading to learn more about both programs. Do you have questions? Don't hesitate to contact Benson Nissan today by calling us or by completing our online contact form.
What Are the Benefits of the Nissan Vehicle Purchase Program?
If you qualify for the Nissan Vehicle Purchase Program (NVPP), you'll be able to purchase virtually any new Nissan car, truck, or SUV from Benson Nissan at a pre-negotiated discounted price. This program is exclusively for Nissan employee family members, friends, servicemen and women, recent college graduates, and other select parties. This offer allows you to:
Get in and out in record time by purchasing a vehicle through a "No-Haggle" experience.
Utilize any and every Nissan lease specials, Nissan rebates, and incentive APRs to save even more off the purchase or lease of the vehicle of your choosing.
Whether you're looking at a new
Nissan Altima
,
Nissan Titan
, or Nissan Armada, you can save big with the NVPP. And Benson Nissan offers one of the largest inventories of
new Nissans
in the Spartanburg, Greer, and Greenville area.
Nissan Military Discount Program
Whether you're Retired, Reserve, or Active U.S. Military, you can qualify for Benson Nissan's Military Discounts through the NVPP. What is our Military Discount? In short, it's our way of saying thank you for the sacrifice you and your family have made on behalf of the United States of America. As a result, we offer all eligible people additional savings toward the purchase of a new Nissan car, truck, SUV, or minivan. How do you qualify for the Military Discount? Here's how:
Retired, reserve, or active duty U.S. Military and spouses
National Guard, Marines, Coast Guard, Navy, Air Force, or Army
In either case, make sure to have proof of military employment, such as official documentation, Leave and Earnings Statement, or Military Identification Card. Retired military personnel will have to use a DD214 document for proof. Spouses are only eligible for the rebate if active or retired military is also on the loan.
Best of all, you'll save anywhere from $500 up to $1,000 off the purchase of an eligible vehicle, and the Military Discount can be combined with most other regional and national offers!

College Graduate Program at Benson Nissan
Completing college is both a time to buckle down financially and celebrate your accomplishments! With the Nissan College Grad Program, you can do both at the same time by purchasing a new Nissan through our easy, stress-free buying experience! With the College Graduate Program, you are eligible for preferred pricing on a new Nissan vehicle. This exclusive program is uniquely designed for college graduates who are starting to build their credit! Who qualifies for the Nissan College Grad program?
Anyone who will graduate within six months from a verifiable four-year or two-year university or college, nursing school, or graduate school.
Anyone who has graduated from an eligible institution within the last two years.
Make sure you bring proof of current employment or proof of you starting a new job within 90 days.
When you qualify for the College Grad Program, you'll receive exclusive pricing and a simple, easy buying experience for your first car. You can combine the College Grad discount with any other national or regional incentives. Best of all, you'll qualify for one of the best interest rates available - even if you have no credit, bad credit, or a poor credit history - and enjoy a 90-day deferred payment option.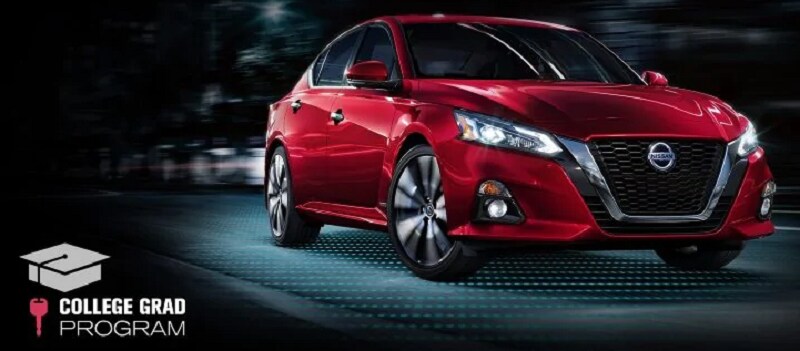 Contact Benson Nissan for Nissan Discount Programs
Looking to learn more about Benson Nissan's Discount Programs? Don't hesitate to contact us by calling 888-807-4933 or complete our
online contact form
.